Tarot Tuesday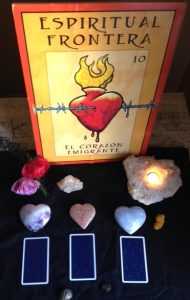 Take a moment and take a deep breath. Get centered, and grounded, then pick a card. By get centered I mean to get calm, focused, and to be present in the moment.  By get grounded I mean to uncross your feet and arms, with feet flat on the floor. It is also beneficial if you can quickly imagine roots shooting down from your root Chakra and feet into the Earth. Allow these roots to anchor you in a supportive way that neutralizes negativity and draws up nurturing Earth energy for stability. Sometimes more than one deep breath is needed to feel ready. Often three nice, slow, deep breaths are just right. Do what feels best for you..
Once you are ready pick the card that you feel the most drawn to. This week's tarot deck is the Universal Waite Tarot, published by U.S. Games systems, Inc. With drawings by Pamela Colman Smith, recolored by Mary Hanson Roberts. The three crystal hearts above the cards are used as markers and included in the mini-readings. From left to right the hearts are Fluorite, Sunstone, and Blue Calcite. I obtained these three hearts from Crystal Intuition Arizona.  
Tarot Reveal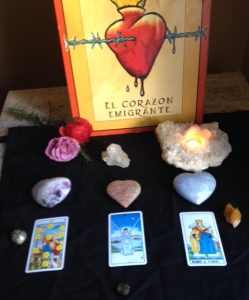 From left to right we have Fluorite above the Ten of Pentacles on the left, Sunstone above the Two of Swords in the middle, and on the far right Blue Calcite above the King of Cups.  Pay attention to your initial reaction upon seeing the card you were drawn to. See if this reaction lines up with how you feel after getting the information from the mini-reading about the card. Being aware of our thoughts, and feelings helps us to understand and hone our intuitive skills. It starts with paying attention, and then you learn to trust and use your intuition. Like a muscle the more you exercise it the stronger it will get.
Fluorite Crystal
Fluorite is the mineral form of calcium fluoride, it belongs to the halide minerals. It is a widely occurring mineral with deposits found worldwide. Industrially it is used as flux for smelting, and in the production of some glasses and enamels. Fluorite is a very protective stone, good for grounding and harmonizing spiritual energy. It connects the mind to universal consciousness, and helps develop links with spirit. It helps bring intuitive insights into the physical plane. Fluorite balances mental and physical energies and can clear negative energies from the aura. It is said to enhance mental abilities and has been called the "genius stone". It stimulates the electrical charge in the brain and increases prana energy. This stone works well with the upper Chakras. It needs to be cleared often as it is always working to absorb negativity from its environment. In divination this crystal is said to assist in making decisions that are practical, but also ethical and do not go against your principles.
Ten of Pentacles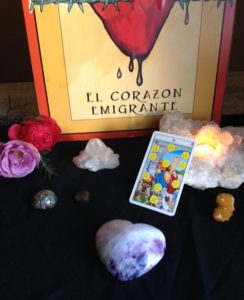 This card is the tenth card in the suit of Pentacles in the Minor Arcana. It carries the energy of Mercury and Virgo, with a mutable modality and Earth element. The image is of a male elder seated amidst his family and pets (the dogs). Tens in numerology are about endings, but the number contains a one also so these endings are typically more cyclic than abrupt and permanent. Some keywords for this card include success, legacy, finances, wealth, foundations, home, and family. It is known as the "wall street card" as it often shows up to represent wealth and windfalls. It could be a change for the better of your living status through buying or selling property, or travel for work that leads to more money. This card is about satisfaction but this is not just financial, but there is an emotional element to it as well. We are generally able to be more emotionally generous when we are feeling secure with our place in life. If you were drawn to this card this week no matter the details you should expect the winds of change to blow in for the better for you.
Sunstone Crystal
Sunstone is a plagioclase feldspar. It has been found in southern Norway, Sweden and various locations around the U.S. It is known as a joyful stone that assists in the nurturing of self in order to be of service to others. It is said to increase vitality, abundance, and luck. It carries the energy of Solar Deities. It will clear and cleanse all chakras, but works particularly well with the base and sacral chakras. In divination Sunstone heralds luck and health, our challenge is to enjoy this period of time without worrying if it will last.
Two of Swords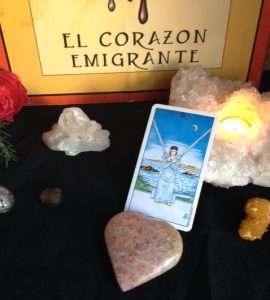 The Two of Swords is the second card in the Minor Arcana suit of Swords. It is astrologically attributed to the energies of Moon in Libra, and its modality is cardinal and element is Air. Twos in numerology are about communications, dualities, and balance. The image is one of a blindfolded female holding two swords. Some keywords associated with this card are decisions, balance, planning, strategy, and awareness. The suit of swords represents Air element, which has to do with thoughts and mentality, as well as communication. If you have been drawn to this card this week then you may want to write up a pros and cons list if you need to decide something. Use your all your abilities to be clear and concise when you need to communicate what you have decided. As long as it passes the final litmus test of feeling (moon) right as well as making sense, it should turn out to be beneficial for you.
Blue Calcite Crystal
Calcite is a carbonate mineral. There are over 800 varieties. Most on the market these days comes from Brazil and Mexico. As a blue stone it is aligned with the Third Eye, or Ajna Chakra, and the Throat Chakra. While it is an overall soothing stone, it amplifies energy in these chakras. This stone will clear out negative energies from physical bodies and environments. It clears out old patterns so healing and new patterns can be established. It also assists with increasing intuition and emotional healing and balancing. This stone represents female intuitive yin energy. In divination this stone suggests that you might need to work on healing self-talk right now, making sure your inner dialog speaks to you as you would speak to your own best friend. This is a time for healing your emotions, before you worry about making anyone else understand them.
King of Cups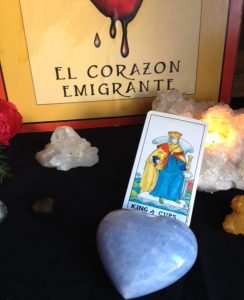 This card is a court card in the Minor Arcana suit of cups. This card carries the energy of fixed Air and mutable Water (some systems say Fire in the Suit of Water, Fixed Water, Scorpio). Kings are power and authority, Cups are feelings, emotions, intuition, and creativity. The image is a King sitting upon his throne holding a cup and his scepter. Some keywords include sensitive, enthusiastic, creative, caring, and artistic. This card can often signify an actual person in your life, usually but not always a male. It may also represent you, or a situation. If you have been drawn to this card this week it is likely that you will need to start thinking of yourself as the final authority on your emotions, and any intuitive or creative urges.  Know that your emotional life is deeper than most in your sphere, so you are the "King" of these depths right now. If this card represent another person in your life, then you may want to allow them to do what they need to do to heal or create at this time.
I hope that you have found these mini-readings helpful. If you have any questions about this, or would like to book a full personalized reading feel free to contact me at april@lodestarphx.com.