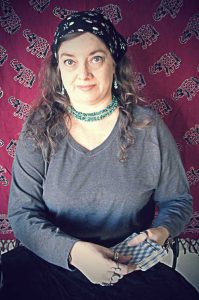 My name is April,  I am an Arizona native, and eclectic solitary witch. I was gifted with my first Tarot card deck way back in 1983 when I was 12 years old. I did readings for my family and friends for years before I started to do professional readings. I have done readings for thousands of clients from all walks of life, from artists to lawyers, police officers to homemakers. Everyone is a unique individual in a different place on their path. It is my honor to assist each one in finding clarity, the ability to trust their own decisions, and to know what will truly make them happy.
Rather than being set in stone the future can shift and evolve as you do. The cards enable you to navigate from where you are to where you want to be in life. Using the information and wisdom the cards share to activate and validate your own intuition. My Tarot readings shine a light on your current situation and explore the most likely scenario this will lead to. You will be able to clearly see if the likely results are right for you, or if there is a better path to your happiness. I love sharing my gifts with those willing to do the inner and outer work needed to create an authentic life. I am a fellow traveler and guide, not a savior. In the end you have to make the choices and take the actions that improve the quality of your life.
In addition to providing Tarot readings I also provide Life or Spiritual coaching sessions, Hypnosis, and Past Life Regressions. After a number of years of reading Tarot professionally, I wanted to offer clients something more than just a reading to help them move forward in their life. I  attended Southwest Institute of Healing Arts, an accredited school in Arizona where I graduated in 2015 with a Diploma from their Holistic Wellness Practitioner Program as well as an Associate of Occupational Studies Degree in Mind-Body Transformational Psychology, Certificates of Excellence in Life Coaching and Hypnotherapy. I obtained certification from the National Association of Transpersonal Hypnotherapy, and hold a Usui Reiki Master, Karuna Ki Reiki Master/Teacher, and Crystal Reiki Master/Teacher certification.  I am also a U.L.C. minister and a member in good standing of the American Tarot Association. And I make a mean sourdough bread.