Be brilliant, know thyself!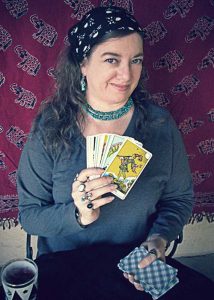 My name is April Mari, the desert witch. I am a professional psychic advisor with more than a decade of experience. I am here to help empower you to know and trust yourself, so you can be the shining star of your life.
Someone (or something) brilliant is very bright, exceptionally clever, talented or outstanding. Know thyself is one of the Delphic maxims written in the pronaos of the Temple of Apollo. While this truth has many meanings, the simplest and most direct is that by knowing your limits and motivations, you can embrace a new point of view and make better decisions in your life.
There are a variety of tools we can use to better know thyself. Tarot cards, dream interpretation, astrology, past life regression and life coaching are some of my personal favorites. They can help provide clarity and validation on your quest to understand your true self.  These tools will assist in your brilliant ability to take decisive action in your life. Are you ready? Let's go!