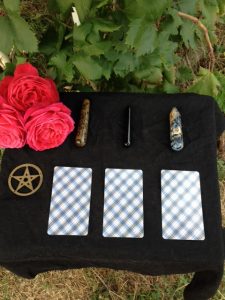 Tarot Reveal
If you didn't get to see the original post on Facebook, you can find it here at Lodestar Phoenix-Tarot with April Mari , to pick a card.  There is a different crystal wand above each of the cards. From left to right we had a Stromatolite wand, an Onyx wand, and a Pietersite wand. Take a moment and take a deep breath. Get centered, and grounded, then pick a card. By get centered I mean to get calm and focused, to be present in the moment.  By get grounded I mean to uncross your feet and arms, with feet flat on the floor. I is also beneficial if you can quickly imagine roots shooting down from your root chakra and feet into the Earth. Allow these roots to anchor you in a supportive way that neutralizes negativity and draws up nurturing Earth energy for stability. Sometimes more than one deep breath is needed to feel ready, Often three nice, slow, deep breaths are just right. Do what feels best for you.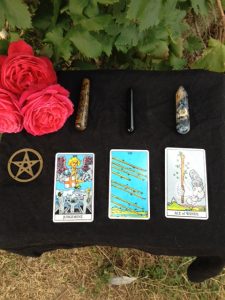 Reveal
From left to right we had a Stromatolite wand with the Judgement card. Next was the Onyx wand with the Eight of Wands card. Finally we had the Pietersite wand with the Ace of wands. Which card and wand combination did you choose? What is your initial reaction to the card when revealed? Many times our initial reactions have pertinent information for us. Some might be pleased, or even relieved, while others might feel anxiety, or disappointment. Take note of the initial reaction you encounter. Don't feel like you need to judge this initial reaction, just observe it for now. Later with more information it might make more sense, or it might be a message about some work that needs to be done, on say procrastination, or fear of moving forward for example.
Stromatolite Wand and Judgement Card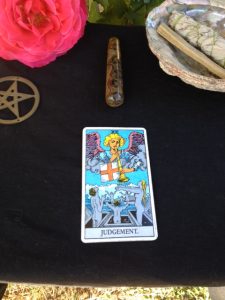 Stromatolite is an excellent stone for transformation, and evolutionary change. It assists in removing or changing deeply ingrained blockages, patterns and programs. It is also known to encourage new patterns, and flexible thinking. Stromatolite is created from fossilized algae that were the predominant form of life on Earth for more than two billion years, and are said to have created the oxygen on our planet. This stone is also said to be helpful for reading the Akashic Records, and delving into past lives through techniques like past life regression.
The Judgement card is number twenty in the Major Arcana of the tarot deck. It's element is fire, and the ruling planet is Pluto.  A card for endings and new beginnings, resurrection and awakening. Redemption, and reincarnation are also keywords associated with this card. In a reading one could imagine feeling judged due to the imagery and usual descriptions of this card. Sometimes yes we are being judged by others, but even more often we are judging ourselves. Now especially with the year wrapping up, it is a good time to take stock of where we find ourselves, what we have accomplished, or not accomplished, and where we would like to go from here. If this is the card you have chosen then it seems very likely that the time is right for you to take inventory and make changes that will lead to a happier, and healthier new you in the new year.
Onyx Wand and Eight of Wands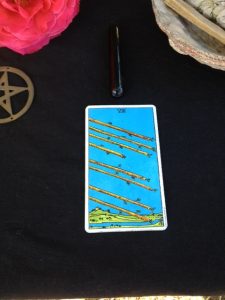 Onyx is an ancient stone used for many magickal and mundane purposes by many cultures throughout history. Black Onyx is a powerful stone of protection for the mind and body. It is useful as a sort of shield against harmful energies, often used by those who do energy work like psychics, and mediums. It has a very earthy, grounding energy to it that might be depressing for some if used for too long.  Helps develop emotional and physical strength and stamina. It is helpful in times of stress, confusion, and grief. With time and thoughtful workings this stone can help lead one to mastery of one's self.
Eight of Wands is a Minor Arcana tarot card (or Pip card). This card's element is fire, and is said to have the planetary energy of Mercury in Sagittarius. It's number is eight, which resonates with power and strength. Eight is also about combining physical and spiritual energies. This card is interesting as it has no animals or people in it. The wands are in flight, showing forward movement. Often this card represents communications coming soon. It can also point to travel or advancement of some kind. It is a card of action, things already in motion.
If you chose this card right now, with the Onyx wand's energy assisting it, it could point to a need to ground and protect yourself in preparation for an influx of activity and energy. This energy could be either positive or negative depending on where you find yourself in this moment. If negative, use the idea of the Onyx to slow down and think before responding to what is coming. Also remember Onyx's protective qualities, it absorbs and transmutes negativity as well as repelling it to begin with. If this new cycle of energy is positive in nature, there is still cause to be aware and not burn yourself out by taking on too much. Pace yourself, and set up good boundaries. In either case this period of time is offering you the chance to move forward, even if what it offers does't seem ideal, you have the power to change how you perceive it and respond to it to create the best possible outcome.
Pietersite Wand and the Ace of Wands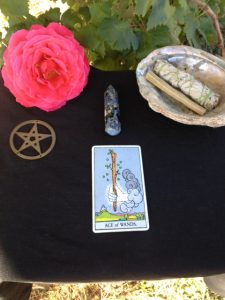 Pietersite is known as the Tempest Stone. It can clear the emotional air like a thunderstorm is known to do leaving the aura and emotions feeling calm and renewed. It grounds physical energy centers to the etheric realm instead of to the Earth. It increases intuition, the use of the will, and the focus of one's aim in life. It is also a powerful protective stone, especially against the elements, storms in particular. This crystal is also good for boosting confidence, creativity, and supports overcoming addictions. It is a blend of Tiger's eye, Hawks eye, and Jasper with incredible chatoyancy (shimmery shine) that makes it seem to swirl like a storm brewing.
The Ace of Wands is another Minor Arcana card. It's element is fire but is not assigned a particular planet. It does resonate with all the fire signs however, Aries, Leo, and Sagittarius. Aces are all about new beginnings. This ace contains keywords related to creativity, spirituality, intuition, will power, and desire. If you have chosen this card at this time it is time to start something new, to take action to achieve a desire. The more creative, and spiritual the desire, the faster it will manifest. Take action on that dream that you have been afraid to let yourself go for. If you need to use the energy of Pietersite to clear the air first, then now is the time to do so. Take a moment and check in to see if it is really fear you are feeling or excitement, then get on with the business of creating the life you want.