Tarot Tuesday
Take a moment and take a deep breath. Get centered, and grounded, then pick a card. By get centered I mean to get calm, focused, and to be present in the moment.  By get grounded I mean to uncross your feet and arms, with feet flat on the floor. It is also beneficial if you can quickly imagine roots shooting down from your root Chakra and feet into the Earth. Allow these roots to anchor you in a supportive way that neutralizes negativity and draws up nurturing Earth energy for stability. Sometimes more than one deep breath is needed to feel ready. Often three nice, slow, deep breaths are just right. Do what feels best for you..
Once you are ready pick the card that you feel most drawn to. I am using crystals as markers for the cards and will include them in the following mini-readings. From left to right above the cards we have a double terminated Citrine wand, a double terminated Tibetan Quartz wand, and on the left a Pietersite wand. The deck this week is the Rider Waite Smith deck, published by U.S. Games Systems, Inc.
The Reveal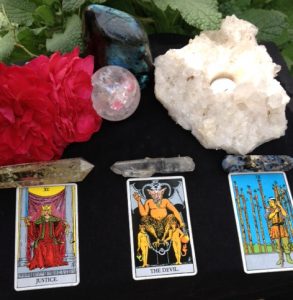 Pay attention to your initial reaction when you see your card revealed, is this the answer you were expecting? Is it something you didn't want to hear? Sometimes it doesn't seem to fit or make sense until later. Being aware of your own emotions, feelings, thoughts, and intuition and then trusting yourself is what it is all about. From left to right we have Citrine above Justice, Tibetan Quartz above The Devil, and Pietersite above the Nine of Wands.
Citrine
A variety of Quartz composed of silicon dioxide with a yellow tint that is derived from iron. It has a trigonal cellular shape. Found in Brazil, Africa, Madagascar, Spain, Russia, France, Scotland, and the U.S.A. It is associated with the Sacral Chakra, and the Root and Solar Plexus Chakras, connecting them and activating them. It carries a motivating, inspiring energy. It is known as the "merchant's stone", or the "success stone" and is said to assist in increasing wealth, abundance, and vitality.  It is often used to encourage manifestation and empower personal will. In divination it points to a time to communicate your ideas and needs clearly.
Justice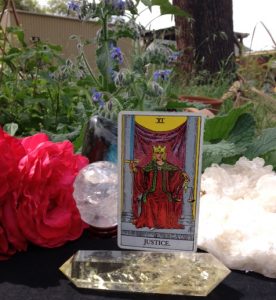 Justice is a Major Arcana card. In the Rider-Waite (Smith) deck Waite is known to have switched the order of this card with the card of Strength. So in this deck it is numbered eleven. It carries the astrological energy of the sign Libra, and modality and element of cardinal air. Some keywords include harmony and equilibrium, fair and balanced, choosing with discernment, poise, karma, values, priorities, justice, judgement, relationships, and partnerships. the image shows the figure of Justice sitting on a throne holding scales in one hand and in the other, a double edged sword. If this is the card that you have been drawn to this week remember the Goddess Maat, and keep your heart as light as her feather. The scales will balance in your favor if you do.
Tibetan Quartz
Found in the Himalayan Mountains of Tibet this quartz is a very protective and spiritual crystal. Protecting you, your aura, your environment, and even your spirituality from outside negative influences and energies. This crystal also resonates with the Third Eye Chakra assisting with meditation and intuition. While it works particularly well with the Ajna Chakra, it can clear and heal all the Chakras due to its being quartz. In divination this crystal points out that when you know the truth about who you are you have nothing left to prove or fear.
The Devil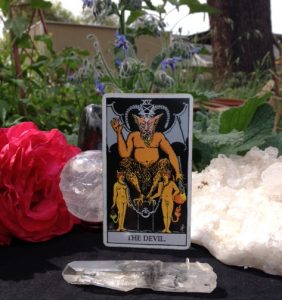 This card is number fifteen of the Major Arcana in this deck. This card carries the astrological association with the sign Capricorn, and the modality and element of cardinal earth. The image on this card shows a horned Devil holding a chained couple captive. Some keywords associated with this card include materiality, temptation, obsession, scapegoating, limited outlook, mistakes, overreacting, being tied to a situation, person, or even a habit, addiction, fear of real self, fears, animal nature, material over spiritual attachments, and preoccupation with the dark side of things. If you have found yourself drawn to this card this week the message for you might be to look closely at what your true needs are, as opposed to wants, habits, or even addictions. You can free yourself, as you may notice the couple in chains are loosely chained and could escape if they only tried. Sometimes we are conditioned to believe things must be a certain way, look again and maybe not. Now is the time to make your escape, and develop new beliefs and perspectives.
Pietersite
Pietersite is known as the Tempest Stone. It can clear the emotional air like a thunderstorm is known to do, leaving the aura and emotions feeling calm and renewed. It grounds physical energy centers to the etheric realm instead of to the Earth. It increases intuition, the use of the will, and the focus of one's aim in life. It is also a powerful protective stone, especially against the elements, storms in particular. This crystal is also good for boosting confidence, creativity, and supports overcoming addictions. It is a blend of Tiger's eye, Hawks eye, and Jasper with incredible chatoyancy (shimmery shine) that makes it seem to swirl like a storm brewing. It is a fairly recent discovery made by Sid Pieters in WIndhoek, Namibia. In divination this crystal means that you will see things in a new way, usually after something is brought to light.
Nine of Wands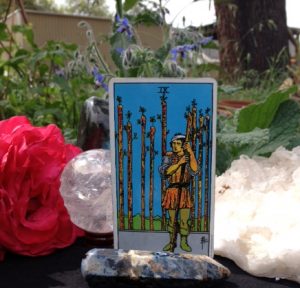 This card is the ninth card in the Minor Arcana suit of wands. Astrologically attributed to the energies of the Moon and the sign Sagittarius (Moon in Sagittarius), the modality and element of mutable fire. The image on this card is one of a figure with a bandaged head, leaning on a wand with eight other wands lined up behind. Some keywords for this card include readiness, strength, watchfulness, on guard, wary, defensive, dedication and resilience, protecting one's reputation, courage, and discipline. If you were drawn to this card this week its message is to expect the unexpected. Be prepared for things that you perhaps thought you had faced and were done to rear up again to be finished once and for all.
I hope that you have found these mini-readings helpful. If you have any questions, or would like to book a full, personalized reading please feel free to contact me at april@lodestarphx.com