Tarot Tuesday
Take a moment and take a deep breath. Get centered, and grounded, then pick a card. By get centered I mean to get calm, focused, and to be present in the moment.  By get grounded I mean to uncross your feet and arms, with feet flat on the floor. It is also beneficial if you can quickly imagine roots shooting down from your root Chakra and feet into the Earth. Allow these roots to anchor you in a supportive way that neutralizes negativity and draws up nurturing Earth energy for stability. Sometimes more than one l breath is needed to feel ready. Often three nice, slow, deep breaths are just right. Do what feels best for you…
Once you feel ready pick the card or crystal that you feel the most drawn to. The Crystal hearts above each card from left to right are Chrysocolla, Pietersite, and Amethyst. The deck this week is the Rider-Waite-Smith deck published by U.S. Games Systems, Inc.
The Reveal
Try to notice your first reaction when you see your card. Is it what you expected? How do you feel about it? Compare this to how you feel after the mini-reading for the card. Awareness of your feelings and emotions is a big first step in learning how your intuition works and is speaking to you.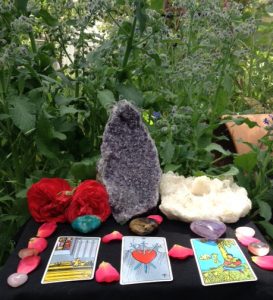 From left to right we have Chrysocolla above the Four of Swords card, Pietersite above the Three of Swords, and Amethyst above the Four of Cups. Again pay attention to how you feel upon seeing your card, and then compare that to how you feel after the mini-reading. Do you feel better or worse after the interpretation of your chosen card? While most people will get their intuitive messages from their emotions and feelings, some get actual physical feeling, or even hear messages, or they may receive these messages as their own thought rather than words from someone else.
Chrysocolla
Chrysocolla is a copper stone often found growing with Azurite and Malachite, and sometimes contains Cuprite. It can be found in the form of Gem Sillica, a crystallized form where the Chrysocolla is fused with Quartz. It ranges in colors from blues to greens. This crystal is known as a stone of empowerment for feminine energies, a stone for wise women, and as a Goddess stone. It is also known as a crystal that encourages people to stay home and not feel negative effects from seclusion. A stone for monks, hermits, and even prisoners. Helpful for public speaking and teaching, for sharing your knowledge. It is associated with the throat chakra, and the heart chakra through its blue and green coloring. In divination this crystal may mean that you need to be generous or allowing with someone whom you don't particularly like. It may call on you to be diplomatic or tactful with someone at this time.
Four of Swords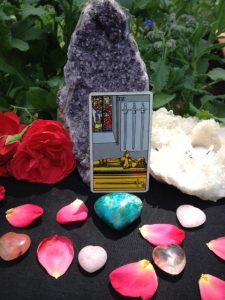 This card is the fourth card in the suit of Swords in the Minor Arcana. It carries the energy of Jupiter in Libra with the modality and element of cardinal air astrologically. It signals a time of renewal and expansive thinking. The image on the card is of a weary knight reclining on a stone slab in a chapel, he appears to be in deep meditation. Some keywords for this card include solitude, rest, withdrawal, reevaluating perspectives and strategies,  setting goals, opening to guidance from higher energies, optimistic, expansive and balanced. Swords represent the energies of our thinking and thoughts, communications, breathing, speech, and discrimination. The number four in numerology holds the energy of foundations, balance, sturdiness, the four directions, four elements, and even the energy of home, roots, and ancestry. If you were drawn to this card this week you may need some time alone to reflect on some things, and become clear about what steps to take next. It also might point to a need to simply begin or deepen a meditation practice at this time.
Pietersite
Pietersite is known as the Tempest Stone. It can clear the emotional air like a thunderstorm is known to do, leaving the aura and emotions feeling calm and renewed. It grounds physical energy centers to the etheric realm instead of to the Earth. It increases intuition, the use of the will, and the focus of one's aim in life. It is also a powerful protective stone, especially against the elements, storms in particular. This crystal is also good for boosting confidence, creativity, and supports overcoming addictions. It is a blend of Tiger's eye, Hawks eye, and Jasper with incredible chatoyancy (shimmery shine) that makes it seem to swirl like a storm brewing. It is a fairly recent discovery made by Sid Pieters in WIndhoek, Namibia. In divination this crystal means that you will see things in a new way, usually after something is brought to light.
Three of Swords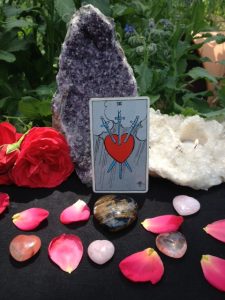 This card is the third card in the Minor Arcana suit of Swords. Astrologically it carries the energy of Saturn in Libra with the modality and element of cardinal air. This card image is one of the most striking in the tarot deck as three swords pierce a heart with storm clouds raining down in the background. The keywords and concepts for this card include that of severe distress, the heart tried by pain, painful advancement, upheaval, negative or hurtful thinking and communications, despair, and depression. While there is some consensus around this card pointing to pain, it is usually caused by and can be mitigated by our thinking, and perception. Swords are thoughts, thinking, communication, learning, and discernment. Three is a number for growth, and creativity, this can be good or bad. It is good if we are growing thoughts that increase our happiness, not so good if we are in a depressive spiral with our thoughts. If you have been drawn to this card this week it is likely that you will have some disappointment to work through. What you learn from it, and how you decide to move past it are going to be important. It may do well to remember this week that there is no failure but only lessons. Like Thomas Edison who is credited with having said about the light bulb before getting one to work successfully "I have not failed, I've just found 10,000 ways that won't work".
Amethyst
Amethyst is a variety of quartz made up of silicone dioxide, it gets its color from iron, and aluminum deposits as well as natural irradiation. Found in places like Brazil, Bolivia, Mexico, Africa, Canada, Russia, U.S.A. and Europe. It has a long history of use by humans. For some it was merely decorative, but the ancient Greeks were known to use it as  protection against drunkenness. It has also been known for it's healing and protective properties. It resonates with the Crown Chakra, and helps connect it to the Third Eye, or Brow Chakra (Ajna Chakra). It is called the "All- healer" and said to be one the most effective for healing plants, animals, and people. It is a calming and soothing stone. Dreaming of this stone is a good omen as it is said to mean that you are safe, or free from harm (or will be safe and free from harm if you are not currently). In divination this stone means that you will be able to be satisfied with things as they are without need for extremes.
Four of Cups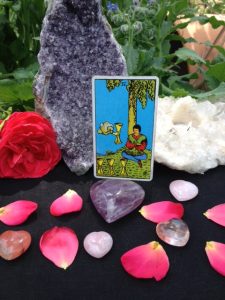 This card is the fourth card in the suit of cups in the Minor Arcana. It carries the astrological energy of Moon in Cancer and the modality and element of cardinal water. The image shows a figure sitting cross-legged and with arms crossed under a tree. There is a hand emerging from a cloud offering a cup, and three cups in the foreground. Fours are about foundations, stability, balance and authority. Cups represent the  emotions, intuition, creativity, and subconscious. Some keywords and concepts for this card include opportunities offered, contemplating a decision, dissatisfaction, passivity, brooding, inaction, or indecision. If you have been drawn to this card this week you may have been procrastinating on taking action or making a decision because you don't feel emotionally ready, or emotionally satisfied about what your choices or the opportunities are. With the cups involved it may be that  mood is holding you back from thinking clearly. Create a pros and cons list so you can look at things in a more rational way. Remember that usually once we take some action even if small things start to feel better emotionally.
I hope that these mini-reading have been helpful for you. If you have any questions about this, or would like to book a full personalized reading please feel free to contact me at april@lodestarphx.com